Lt. Amy Tomlinson is backseater
of
plane #8
and is events coordinator for the Blue Angels.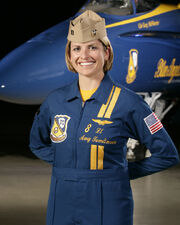 Lieutenant Amy Tomlinson is a native of Carlsbad, Calif., and graduated from San Dieguito High School in 1996 where she lettered in gymnastics and surfing. She attended the University of Southern California where she was a member of Alpha Delta Pi sorority and the Navy ROTC Program. Amy graduated with a Bachelor of Arts degree in Public Relations in 2000.
In May 2000, Amy received her commission from the Navy ROTC program at USC. She reported to Naval Air Station (NAS) Pensacola, Fla., for aviation indoctrination and completed Naval Flight Officer Training flying in the Beechcraft T-34C Turbo Mentor, the North American T-39D Sabreliner and the North American T-2C Buckeye. She received her NFO wings of gold in November 2001.
Amy then reported to Navy Fighter Squadron 101 (VF-101), the "Grim Reapers," at NAS Oceana, Va., for training in the Grumman F-14D Super Tomcat. In August 2002, she reported to VF-213, the "Fighting Blacklions," where she completed two combat deployments aboard the aircraft carrier USS Theodore Roosevelt (CVN 71). She is a designated Forward Air Controller Airborne and Aircraft Mission Commander, and flew 33 combat missions, totaling 135 hours, during her deployments to the Persian Gulf in support of Operations Iraqi Freedom. While with the "Blacklions," Amy served as the Public Affairs Officer, Aircraft Division Officer, Air-to-ground Weapons Training Officer and Personnel Officer.
In April 2006, Amy transitioned to the McDonnell Douglas F/A-18E/F Super Hornet with Strike Fighter Squadron 122 (VFA-122), the "Flying Eagles," at NAS Lemoore, Calif. While at VFA-122, she served as a Forward Air Controller (FAC-A), Close Air Support Phase Head, Assistant Fighter Phase Head, and Schedules Officer in addition to her duties as a qualified Weapons System Officer (WSO) instructor.
Blue Angels
Edit
Amy joined the Blue Angels in September 2008. She has accumulated more than 1,600 flight hours and 220 carrier arrested landings. Her personal decorations include two Strike Flight Air Medals, Navy and Marine Corps Commendation Medal with Combat V, Navy and Marine Corps Achievement Medal and various personal and unit awards.

Amy flies in the backseat as a Naval Flight Officer in the #8 plane and is the events coordinator.