Captain Greg McWherter was the Comminding Officers of the Blue Angels from 2009-2010, and again from 2011 until 2012.
The Commanding Officer serves two years with the team but he was asked to return in 2011 when Commander Koss stepped down.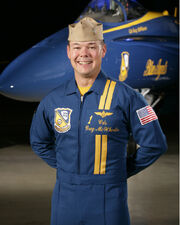 Captain McWherter is a native of Atlanta, GA. He graduated from Avondale HS 1986. He played soccer and football there.
Edit
McWherter played division 1 soccer for The Citadel in college. He received his naval commission in 1990.
((UNDER CONSTRUCTION, MORE TO COME))